Recently, I've been receiving a number of articles and blog posting about the use of QR (Quick Response) codes in the classroom. While reading the
Using QR Codes in Education
blog post on the
ISTE website
, I started watching the following embedded YouTube video,
Black & White and Scanned All Over
, which helped me put this unique technology into perspective.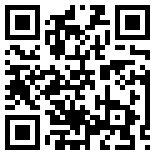 From a professional development perspective, QR codes can be an efficient way for teachers to access Web-based supplemental materials. Even on print-based handouts that many teachers prefer to have on hand, QR codes can be used to reduce the amount of printing and place links to even more resources on the World Wide Web. QR codes can be read with any device that has a camera and an appropriate reader. Devices such as the iPhone and iPad 2 can read QR codes. Scan the QR code to the right to view an example that links to a Web page. Below you will find links to (1) QR code generators that are free on the web, (2) QR reader apps for the iPhone and iPad 1/2 and (2) integration ideas for classroom use. Enjoy and share any thoughts and/or resources you may have in the comments sections below!
QR Code Generators
iPhone/iPad 2 QR Reader Apps
Integrating QR Codes in the Classroom